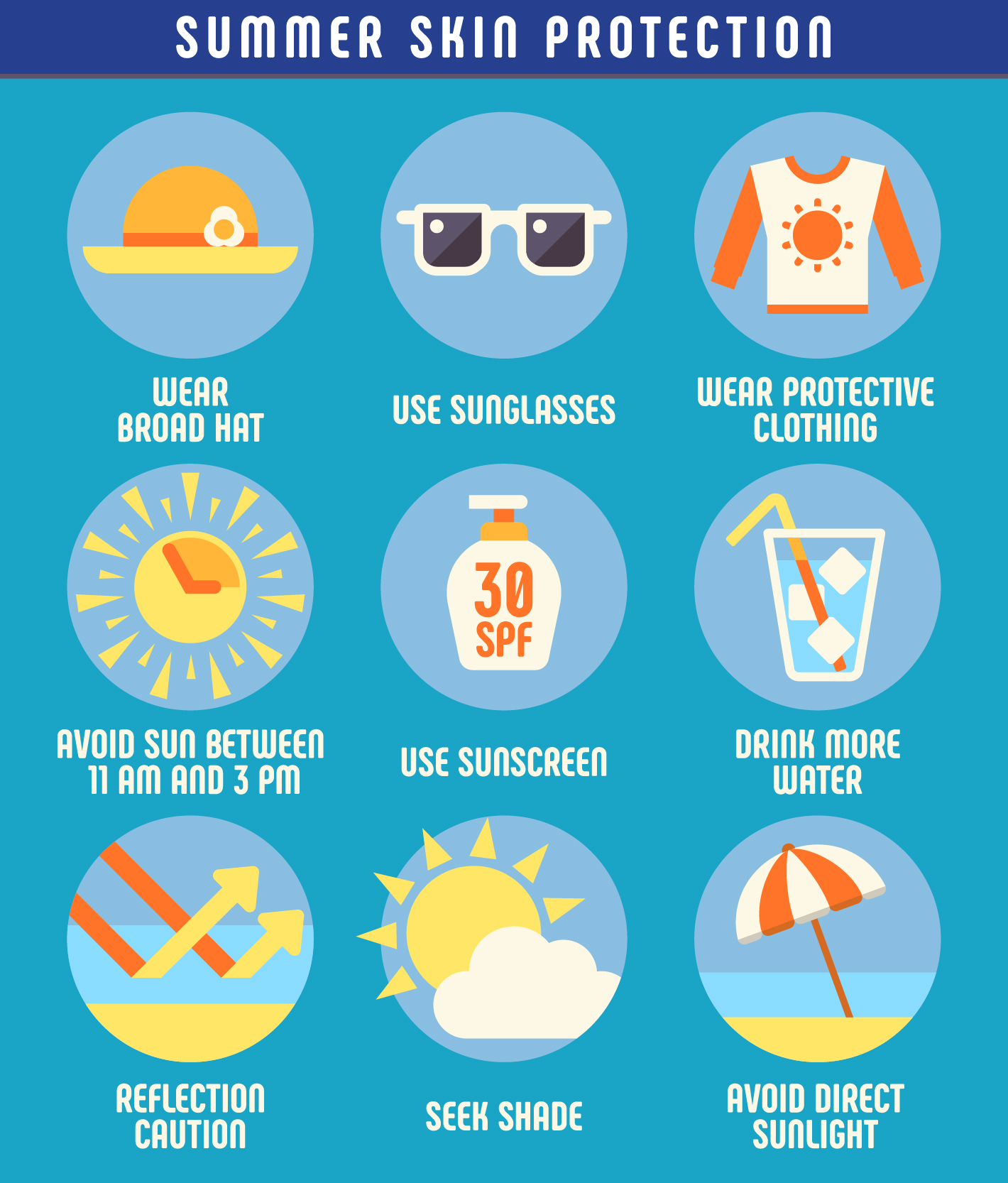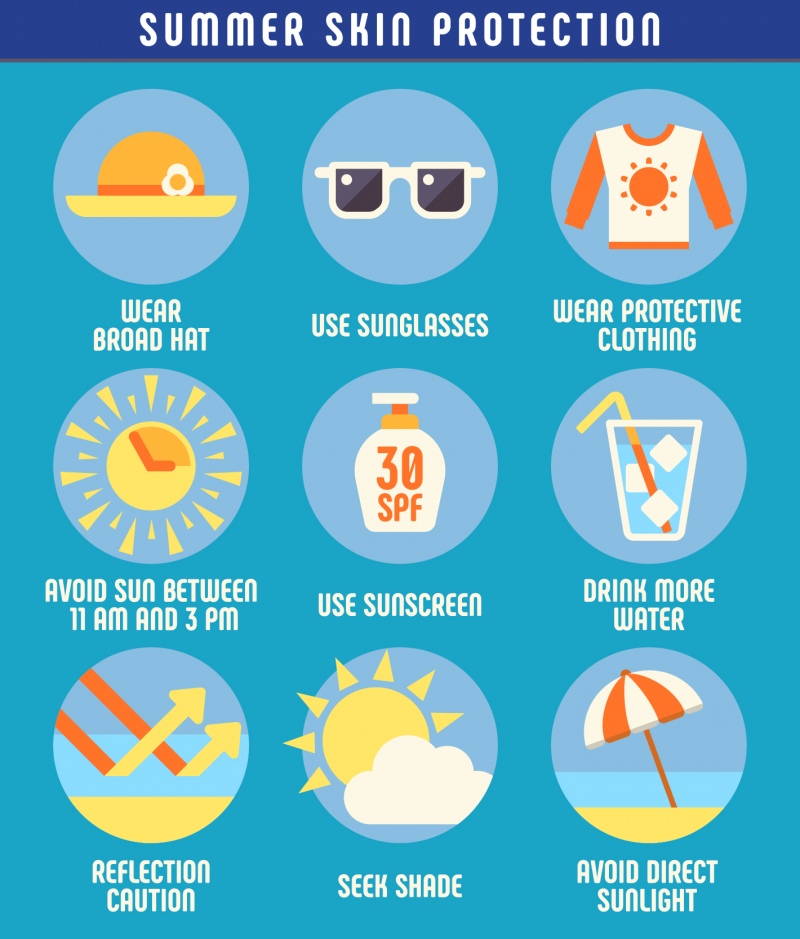 Summertime is all about being outside. And it also means time spent in the sun. Over the past three decades, more people have had skin cancer than all other cancers combined, according to The Skin Cancer Foundation, making proper sun protection a must. As you enjoy time outdoors, it's important to understand and follow sun safety guidelines.
How Much & How Often?
Apply 1 ounce of sunscreen (to properly cover an adult body from head to toe), 15 minutes before sun exposure.
Re-apply immediately after towel-drying, after extensive swimming or sweating and at least every 2 hours.
Broad spectrum sunscreens contain both UVA and UVB protection. Select one with an SPF of at least 30 and apply evenly 15-to-30 minutes before going outdoors.
Don't forget ears, back of neck, hands, tops of feet and top of the head, if exposed.
Going swimming? Use sunscreen engineered for water-resistance.
This means, that a family of four at the beach, lake or pool,  for a full day – say 8 hours – should use about 16 ounces of sunscreen: applying 1 ounce per person, re-applying at least every 2 hours (so at least 4 x in 8 hours, that is 4 ounces per adult) times a family of four, that's 16 ounces. Now you see why we sell 16 oz. bottles of sunscreen lotions – because it makes sense.  This is why NO-AD® Sun Care has been called the Common Sense Sun Care for decades. Plus, our 16 oz. lotion bottles offer twice the quantity as 8 oz. national brands for less cost per ounce.
Commonsense Skin Protections
Whether at the park, the beach or the pool, it's just plain commonsense to load up on sunscreen. Unprotected exposure to ultraviolet (UV) light can put you at risk for skin cancer, which, according to the Centers for Disease Control and Prevention, is the most common form of cancer in the United States.
Did You Know?
Skin Cancer Facts from The Skin Cancer Foundation:
About 90 percent of nonmelanoma skin cancers are associated with exposure to the sun's UV rays.

One in five Americans will develop skin cancer in the course of a lifetime.

Over the past three decades, more people have had skin cancer than all other cancers combined.
Baby and children's skin are especially sensitive to the harsh rays of the sun. Generally, children under the age of six-months should stay out of the sun as much as possible (especially during prime time!). It's also a good idea to check with your pediatrician before using any sunscreen on their delicate skin.
Skin Protection Suggestions
To decrease everyone's risk, try these tips:
Limit exposure, especially between 10 a.m. and 2 p.m.

Apply sunscreen on the kids at least 20 minutes before heading out – and don't be afraid if you think you're using more than you think necessary. Better safe than sorry!

Regularly use a water-resistant, broad spectrum SPF sunscreen with a value of 15 or higher. Apply liberally 15 minutes before sun exposure and reapply every hour as needed, particularly after swimming or perspiring.

Use sunscreen even on cold or cloudy days. Remember, UV rays can reflect off water, cement, sand and snow.

Your lips need protection, too—use an SPF 15 or higher lip balm. And don't forget your ears, neck and scalp!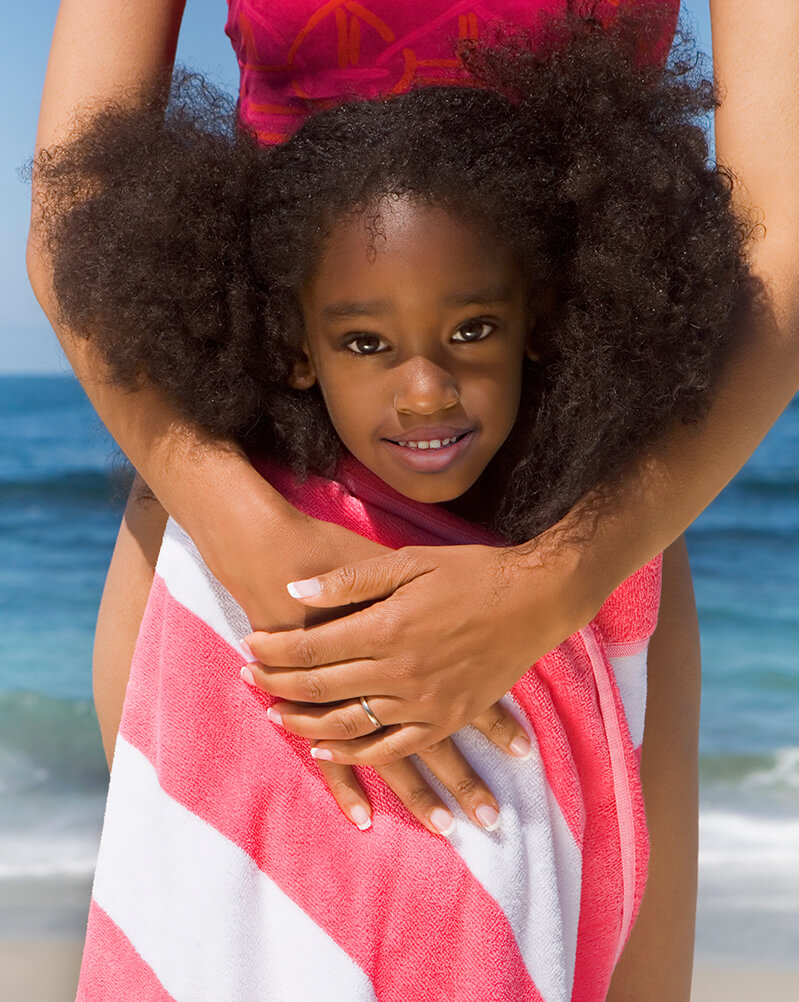 Proper Sunscreen Usage
Most Moms Unaware of Proper Sunscreen Usage Guidelines: Survey Reveals That 6 in 10 Moms Forget to Reapply Sunscreen;
Fewer Than Half Know the Correct Amount to Apply
Could Cost Be an Issue When It Comes to Using Right Amount of Sunscreen?
If used properly, families go through a lot of sunscreen during a season in the sun. But do most moms know how frequently to reapply and the proper amount to use?
According to a NO-AD survey, when moms with children younger than 18 were asked what keeps them from reapplying sunscreen after extended sun exposure, 62 percent admitted that they just plain forgot.
The NO-AD survey also revealed that nearly two in 10 moms (17%) were unaware that, after their initial slathering of sunscreen, they needed to reapply it after extended exposure. To top it off, another nearly 2 in 10 (17%) confessed that their reason for not reapplying sunscreen was that they wanted a tan — this, despite widespread warnings about the dangers of skin cancer from unprotected exposure.
Moms Unaware of Correct Amount of Sunscreen to Apply
The survey also revealed the surprising news that fewer than half of moms (48%) know the correct amount of sunscreen they need to apply to the face and body while at the pool, lake, or beach. Three in 10 answered one tablespoon (1/2 ounce), while two in 10 answered half a cup (four ounces). "The correct amount of sunscreen to be applied — or reapplied — is one ounce," said Brevard, Fla.-based dermatologist Dr. Richard C. Kirkpatrick. "Think of a shot glass of sunscreen or an amount the size of a golf ball."
Feeling the Burn
Perhaps the survey's most disturbing finding is that more than half of moms with children under 18 (54%) believe that the proper time to apply sunscreen is as soon as they start feeling their skin burning. "Waiting to 'feel the burn' is just wrong," Kirkpatrick said. "We need to do a better job of communicating that by the time you feel your skin burning, the sun's UV rays are damaging your cells' DNA. Skin cancers get a foothold when this damage affects the DNA of genes that control skin cell growth."
Could Cost Be an Issue?
While a majority of respondents said cost was not an issue in the amount of sunscreen used and frequency of application, given the rates of skin cancer, it would seem many do not understand the proper guidelines for proper sunscreen use. Maybe if more moms actually were using the correct amount of sunscreen — meaning more and more often — cost could appear to be more of an issue.
He added: "NO-AD's value proposition is expressly intended to offer consumers high-quality sun care at a price per ounce they can afford and which encourages proper sunscreen use."
Misunderstanding of Guidelines Shapes Sunscreen Use
The survey disclosed that moms with children under 18 were not able to fully distinguish the guidelines for proper sunscreen use. Seventy-two percent agreed that sunscreen must be reapplied after any amount of swimming or sweating — when actually, the majority of sunscreens are water resistant for up to 80 minutes of swimming/sweating. (Consumers should always check sunscreen labels for water resistance information.)
Ironically, moms with children under 18 agreed with the following guidelines:
Sunscreen should be applied 15 to 20 minutes before going out in the sun (77%)
Sunscreen must be reapplied after towel drying (65%)
"Clearly, moms have an incomplete and contradictory grasp of when and how to use sunscreen," Kirkpatrick said. "More critical is that only about half know how much to use. Understanding both application frequency and amount is essential to proper sun care. You cannot have one without the other. You cannot say you know when to apply sunscreen but then apply an amount totally inadequate to protect exposed skin."
###
Survey Methodology
The study was conducted by GfK, using GfK KnowledgePanel™, an online probability-based panel designed to be representative of the U.S. general population, not just the online population. The study consisted of 1,000 interviews conducted December 9-11, 2016 among adults aged 18+ with a primary focus on mothers with children under 18. The margin of error is +/-3 percentage points.
Tips on Keeping Your Baby Safe in the Sun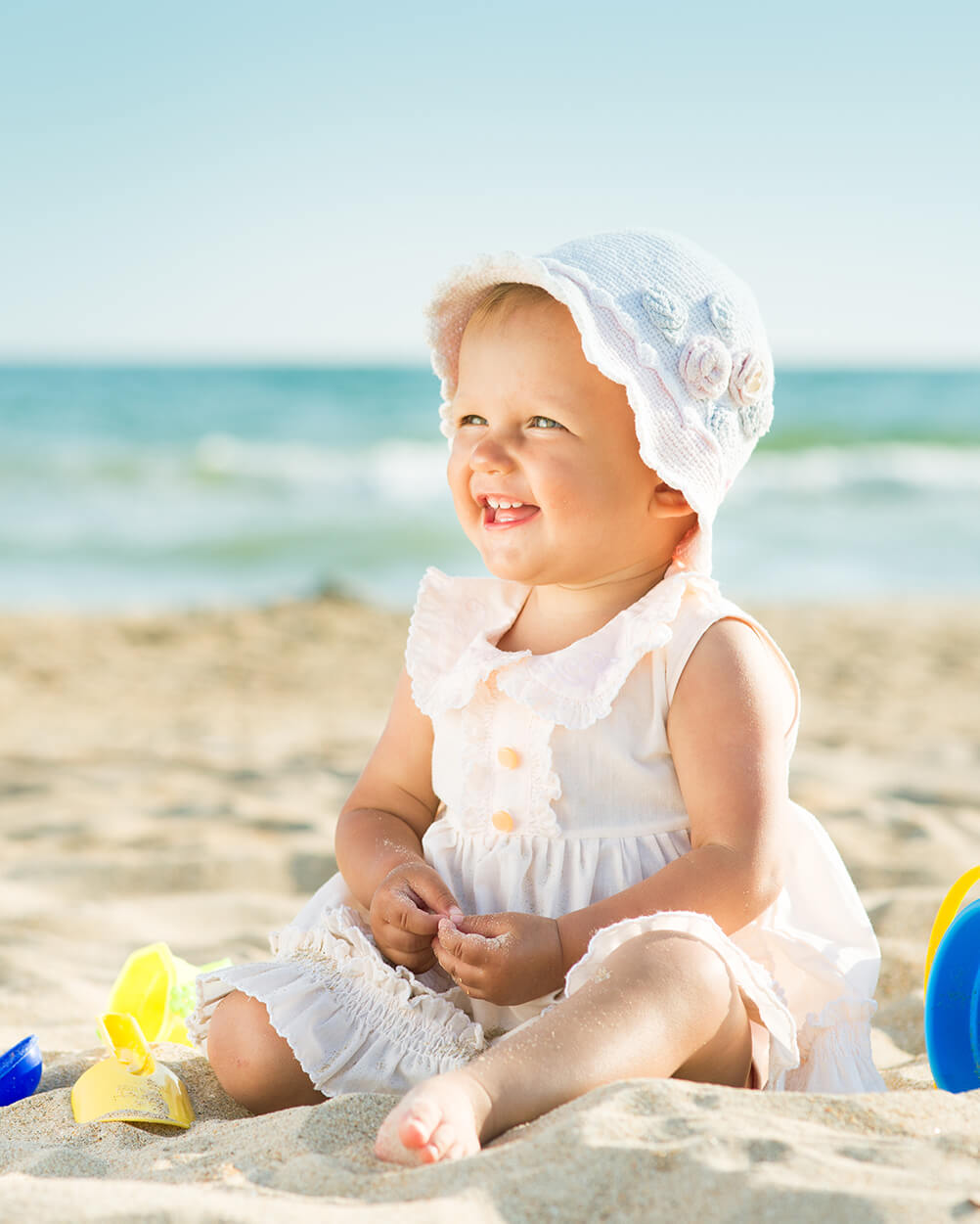 Sun safety is important for people of all ages, but it's even more critical to protect babies' skin, which is far more sensitive than that of older children and adults.
Just as you would do for yourself, it's important to prioritize a healthy and safe summer care routine for babies. Sunburns can be painful and dangerous, but they are also preventable.
This summer and beyond, consider the following care tips for you and your baby.
Avoid the Sun
The FDA recommends not using any sunscreen products on infants under six months of age, so keep newborns out of the sun as much as possible.

Besides being awfully cute, use umbrellas, hats, wraparound sunglasses and protective clothing which can help avoid sun exposure. And don't apply sunscreen on eyelids – instead shield baby's delicate eyes with a broad-brimmed hat.

Limit sun time for babies over six months of age, too. Remember, the hours between 10 a.m. and 2 p.m. are when ultraviolet rays are most intense.
Baby Sunscreen
For babies six months or older, use sunscreen liberally. The American Academy of Dermatology recommends broad spectrum sunscreen with an SPF of 30 or more.

Try a sunscreen stick, which is less likely to get into baby's eyes.

Reapply as necessary after spending time in water, and every two hours.

Because babies' skin is so sensitive, many pediatricians will recommend seeking out sun care products specifically designed with babies' needs in mind. To ensure that the product is safe and effective, look for The Skin Cancer Foundation's Seal of Recommendation.
Two great sunscreen options that have earned the Seal are the new NO-AD® Baby Sun Care Lotion SPF5 and NO-AD® Baby Sun Care Stick SPF50. Both are paraben-free, retinyl palmitate-free, fragrance-free, oil and dye-free, hypoallergenic and are enriched with cocoa seed butter and vitamins. Organic beeswax allows the stick to apply super smoothly unlike other baby sunscreen sticks that drag on delicate skin. Best of all, these water-resistant products are available at a lower cost per ounce than national brands.
Start Early & Make it a Routine
It's really important that you don't wait until you get to the beach or the park to put on sun protection. Apply sunscreen to babies 15-to-30 minutes before you leave home, so your kids aren't left unprotected while you're setting up on the beach or in the park.
UV rays can do damage even in cloudy weather. So, don't become complacent when it seems like the sun is hiding. Take the same precautions every day — even in cool weather. Keep sunscreen on hand for regular application and remember to pay attention to your baby's skin. Burns can happen quickly. And remember to always consult your pediatrician about your baby's sun care routine.
The summer can be a particularly challenging time of year to protect a baby's skin, but establishing good habits now can help set your baby up for a lifetime of healthy skin.